22 Oct

Structural Racism & Breast Cancer Deaths Among Black Women in Chicago

Share This Article

October is Breast Cancer Awareness Month and there is very encouraging news about breast health equity for our region.

Since 1990, there has been incredible progress in narrowing racial disparities in prostate, colorectal and lung cancer deaths between Black and White patients in the US. However, racial disparities in breast cancer mortality rates have widened since 2010 across the country. In Illinois, from 2010 to 2016, data showed a similar decrease in breast cancer death rates but the gap between Black and White women has grown.

When the Sinai Urban Health Institute looked at breast cancer disparities in Chicago a decade ago, they found that the disparities were growing at an alarming rate. According to the data, Black women were less likely to be diagnosed with breast cancer, but 62% more likely to die from it. At a time when several other racially diverse cities, such as New York and San Francisco, had low or non-existent breast cancer death rate disparities, Chicago's breast cancer disparity was pronounced.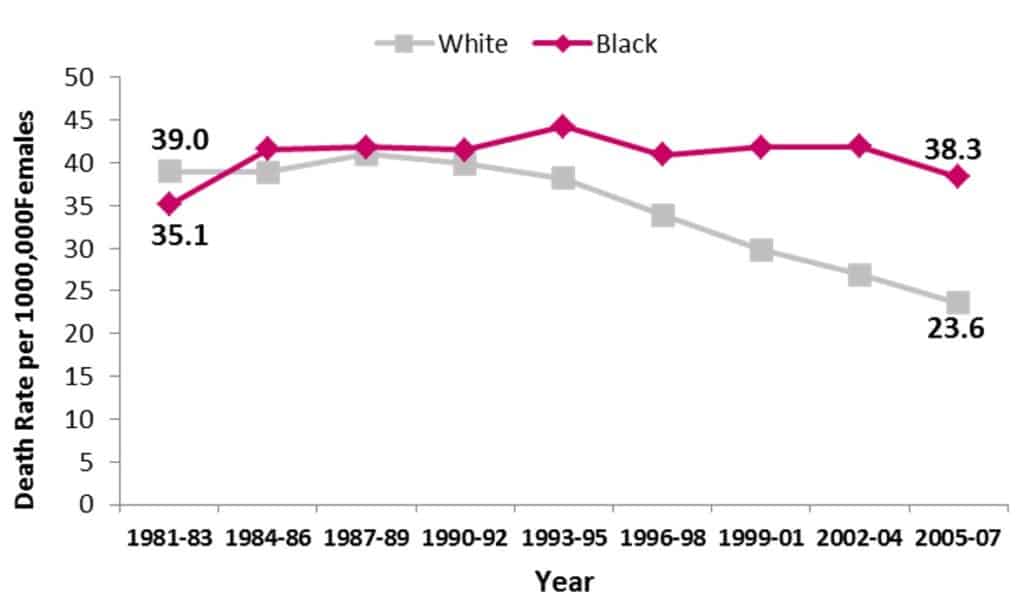 "When we see these geographically varied gaps, biology cannot be considered a sole risk factor–the underlying cause of these disparities and health inequities is structural racism."
This data and Chicago's legacy of segregation point to the impact that structural deficits in our healthcare system have had in creating systemic barriers to quality breast cancer screening and treatment, which disproportionately affect Black women. Biologically, breast cancer can be more aggressive in Black women compared to White women. However, when we see these wide geographically varied rate gaps, biology cannot be considered a sole risk factor — the underlying cause of these disparities and health inequities is structural racism.
From these damning facts emerged a nonprofit coalition of local community leaders, healthcare providers and advocates organized to address the glaring health inequity in breast cancer detection and outcomes. This coalition became the Metropolitan Chicago Breast Cancer Task Force (changing their name to Equal Hope on November 2, 2019). Armed with hard data and first-hand stories of women, the Task Force established an evidence-based model that focused on improving access and quality of health care as a central method of reducing healthcare disparities. This model rigorously assessed the breast health landscape, quality, and accessibility of Chicago's breast healthcare system for women of color.
However, the work is not over. Breast health inequity is not yet to zero and recent research by the Task Force shows that the residual disparity is highly concentrated among younger women. For women under 40, the death gap between Black and White women in Chicago is a staggering 157% and we know that other women of color are also affected by unequal access to high-quality breast care.
We must continue to strengthen our commitment to advancing health equity for all women of color –Black, Latinx, Asian-American, and newly arrived immigrants. Additionally, it is important to work beyond the healthcare system, fortify partnerships across sectors and engage the broader community to advocate for equity in other factors that play a critical role in determining health outcomes for women, including access to affordable housing and access to fresh foods.
Everyone deserves equal hope of access to quality healthcare–whatever their race, ethnicity, household income or neighborhood. Everyone facing a serious illness should have equal hope of early diagnosis, quality treatment, and recovery. Everyone should have equal hope that we can eliminate inequities in health care for every member of our community.
Anne Marie Murphy, PhD
Executive Director of Equal Hope
Dr. Murphy's extensive career has focused on a wide range of healthcare issues from state financing and budgeting to public health, consumer safety, and strategies to reduce the number of uninsured. Currently, she is the Executive Director of Equal Hope and Board Member of Healthy Communities Foundation. In 2011, Dr. Murphy was named a Champion in the fight against breast cancer by the White House. In 2017, Equal Hope (the Metropolitan Chicago Breast Cancer Task Force, at the time) was honored by the Hearst Population Health prize with an honorable mention for its impactful work improving population health and eradicating health inequity. Prior to joining Equal Hope, Dr. Murphy worked for the State of Illinois and focused on women's health, welfare policy, patient safety, and healthcare initiatives.
Anne Marie earned a Bachelors Degree in Natural Sciences (Honors) from Trinity College Dublin, Ireland, and a Ph.D. in Molecular Genetics from the Johns Hopkins University in Baltimore, Maryland.
If you or anyone you know needs help getting a free mammogram or cervical cancer screen because you are uninsured, call Equal Hope today 312-942-3368 or www.equalhope.org or www.chicagobreastcancer.org
Share This Article