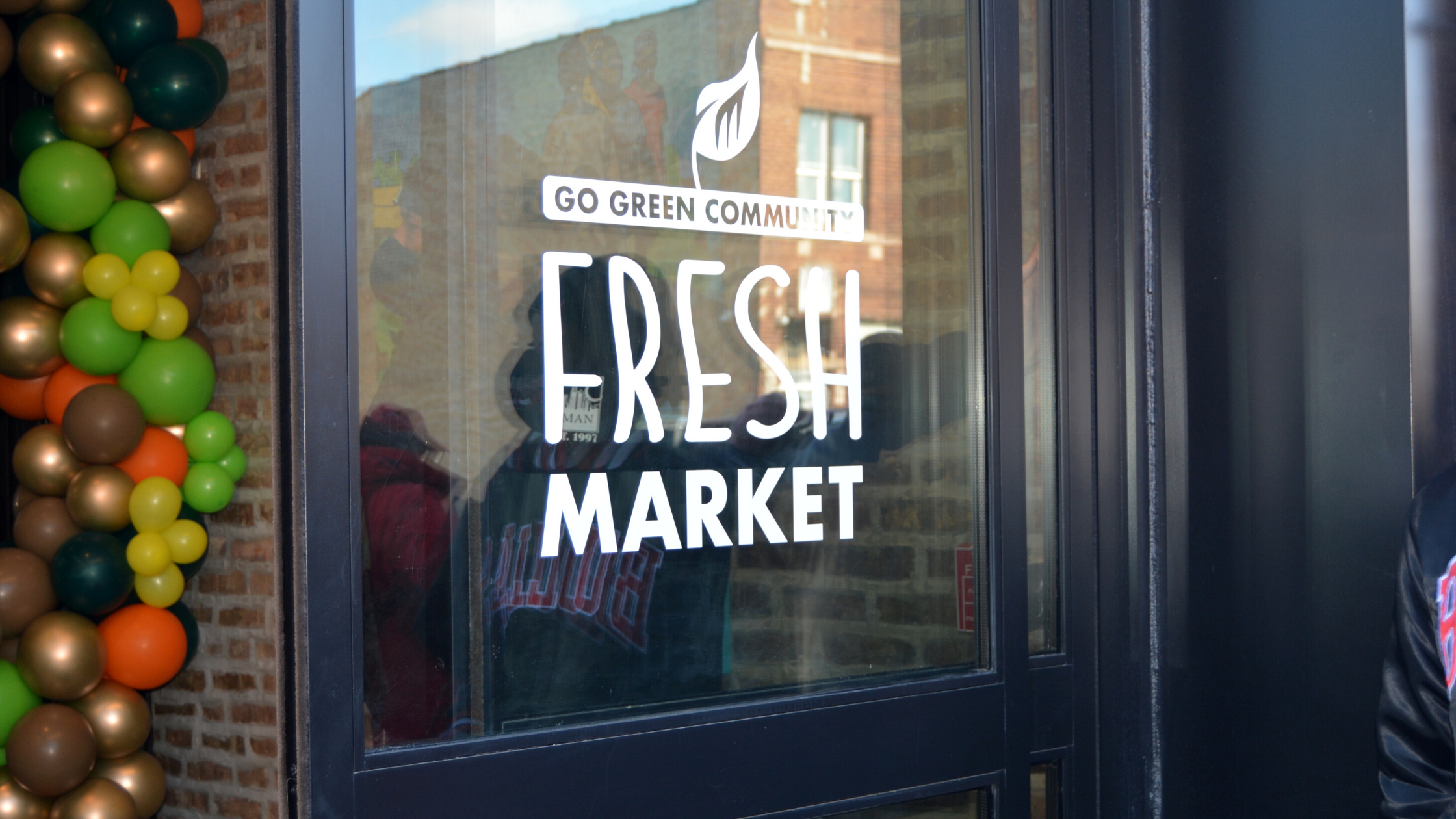 23 Mar

IMAN Celebrates Grand Opening of Go Green Community Fresh Market

Share This Article

Healthy Communities Foundation was among community supporters and residents at Inner-City Muslim Action Network (IMAN)'s Go Green Community Fresh Market grand opening event in Englewood on March 8, 2022. The vibrant event brought hundreds of people together to share the experience of making this collaborative effort between IMAN and other community-based organizations a reality. Mayor Lori Lightfoot and 16th Ward Alderman Stephanie Coleman were also in attendance.  

Located at the intersection of 63rd Street and Racine, the Fresh Market is one of the only fresh produce stores within walking distance for many Englewood residents. The Go Green Community Fresh Market is open daily from 7:00 am to 8:00 pm. 

The Fresh Market offers local and nutritious grocery options to residents in Englewood and surrounding communities within our service region, making healthy eating more accessible and affordable for Chicago's South Side. The area in and around Englewood has long experienced "food apartheid," resulting in residents having few food retailers close to home that offer affordable and healthy foods. 
Go Green Community Fresh Market in Englewood
FOOD APARTHEID AS AN INTERSECTIONAL ISSUE
The term "food desert" has been typically used to describe areas that lack access to fresh foods. However, food justice activists use the term "food apartheid" instead to more accurately represent the structural racialized inequities BILPOC communities (such as those in Chicago's Englewood and Austin neighborhoods and western suburbs like Maywood) have experienced in the food system caused by historical and intentional racist and classist policies. 
Food apartheid goes beyond it being a food access issue as it also sits at the intersection of structural factors such as transportation access, poverty, and language barriers, impacting an individual's long-term health and life expectancy. The Go Green Community Fresh Market aims to address these issues and serve as a model for future markets to support thriving and healthy Chicago communities. 
Photo descriptions: 1) Residents waiting to check out the new space; 2) Nearby mural in Englewood; 3) Local, BIPOC-owned grocery options sold at the Fresh Market; 4) Fresh Market dairy section; 5) Fresh Market produce section; 6) Inside IMAN's celebration tent 
Congratulations, IMAN, on this significant achievement!
To learn more about food apartheid, we recommend the following resources:
OUR PARTNERSHIP WITH IMAN
IMAN is one of our multi-year partners, part of the inaugural cohort that was announced in 2021. For the past 25 years, the community organization has employed holistic interventions to address a spectrum of structural and systemic injustices affecting local BILPOC communities. 
Share This Article